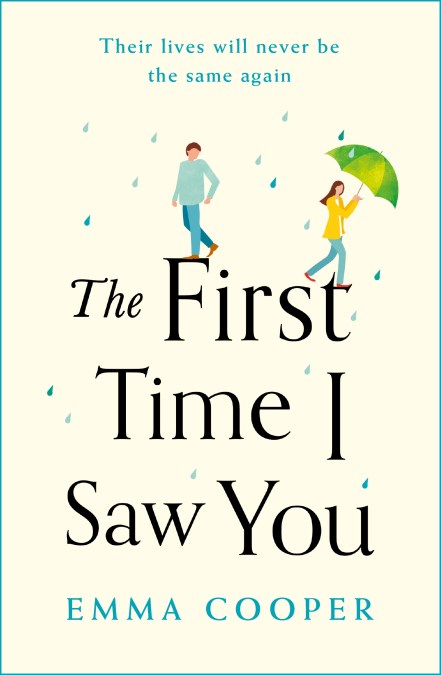 The First Time I Saw You
'Beautifully observed, tender and genuinely funny' Josie Silver, author of One Day in December

From the author of The Songs of Us (shortlisted for the RNA Contemporary Novel Award) comes a love story that will break your heart, but put it back together again'. Fans of Jojo Moyes and Lucy Dillon will love The First Time I Saw You by Emma Cooper.

Lost:
Six-foot-two Irish man who answers to the name Samuel McLaughlin.
Has weak shins and enjoys show tunes.
If found, please return to Sophie Williams.

Before Sophie met Samuel she saw the world in grey.
Before Samuel met Sophie, he never believed in love at first sight.

When they first meet, something tells them they are meant to be.
But fate has other ideas.

Now they have lost each other and can't see a way back.
But they've already changed each other's lives in more ways
than they ever expected…

Readers love The First Time I Saw You:

'I am in love with all the characters in this book. Such a beautiful, funny, heartbreaking and heartwarming story of first love, lost love, mishaps and misunderstandings'

'Emma Cooper knows how to take readers on a journey, offering tears and hysteria in equal measures, and definite page-turning, and heart-wrenching moments'

'Extremely well written and so rich that I could picture every character clearly and the book played out like a movie in my mind'

'Emma is a wonderful author and has an amazing ability to take us on a journey with her wonderful characters'

'Strong storytelling and in a style that's all Emma Cooper's, brilliant characters that I can relate to and the kind of story that feels like it was written just for me'

'It's not often a book makes you laugh out loud and then cry into your tea, or wine. This story did both'

'What characters! I felt I was there with them all watching the twists and turns of the story unfold! I could see the scenes and feel the desperation, the desolation, frustrations, fears and joy!'
Read More
Reviews
This is a very special book indeed: funny, powerful, heart-wrenching and so poignant. I have laughed and cried and cried . . . it reminded me to hold my family close and tell each of them how much I love them
Beautifully observed, tender and genuinely funny. Readers are going to love it!
The Songs of Us is an emotional rollercoaster of a book that made me laugh and cry in equal measures. A tragically beautiful story of love and loss, family and hope. Emma Cooper has been swiftly added to my list of authors to read
Poignant and beautifully written
Quirky, clever and original, this will break your heart, but put it back together again
Praise for THE SONGS OF US:
A warm and touching novel about love and loss, and the healing power of family
A heartwarming, charming novel which had me falling in love and desperate to be part of their happy ending.